iForex Broker Review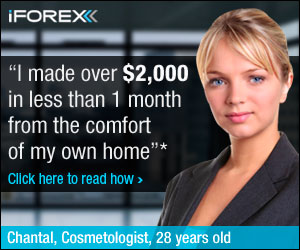 iForex was founded in 1996 after a few bankers and Forex dealers joined to form the company that would later grow to be known worldwide. Basically, iForex is a trading platform based on internet available in several languages, which is a trading place to several thousand traders daily. IForex focuses more on currency pairs, rather than on investing advice, investment portfolios management, or foreign.You can read details in IForex Review.
A trader can find on iForex several trading services and can use a nice trading platform, which can also be used on mobile phones. There is a desktop platform for trading as well as an option for trading on web.
A neat feature iForex has is thigh margins and spreads that enable trading maximization. Also, there's a real-time market prices display on the website.
iForex is a part of iForex Group which is in turn an entity licensed under European Union. iForex has Secure Socket Layer technology (SSL) that enables secure transactions.
Types of accounts
There are four accounts a trader can choose from, and an interesting one is Islamic account, which means that interest rate is not calculated. Of course, there are other ways to calculate what is supposed to be "interest rate". Besides that, there is a standard account and a premium account. As there is no demo account, iForex offers traders a 14 day trial on protected account for which there has to be $100 deposited. You can trade for 14 days without worrying you'll lose your $100 bucks, and should you win anything – you can keep it.


Depositing your money is a bit easier than withdrawing, as it is a common thing, but there is a variety of ways to deposit money; credit cards, PostePay, WebMoney, wire transfer and of course – Skrill.
Deposit Options
On iForex, you can trade in several financial instruments. Those include currencies, commodities, shares, and indices. The list of available currencies include EUR/USD, GBP/USD, USD/CHF, USD/CAD, USD/JPY, NZD/USD, GBP/JPY, AUD/USD, and EUR/JPY.
As for commodities, you can trade oil and gas, gold, silver, platinum, coffe, sugar, corn and soybeans.
Markets
As for indices, there are CFDs Nasdaq, DAX, Nikkei, FTSE/MID, AEX, Euro Stox, Wig, CAC, S&P and of course, Dow Jones.
Traders can trade shares with a leverage of 20:1 with Pfizer, Twitter, Microsoft, Intel, IBM, Google, Apple, Cisco, McDonalds, Facebook, Coca Cola and Amazon.
Besides lacking MT4, iForex could really and seriously improve its bonus offer.
As of now, it only has a sort of a money bonus in the form of promotion of iForex. You can get $35 bucks for each person that starts trading when iForex contacts based on your suggestions. Five people maximum.
However, iForex under bonuses also considers tons of free learning material, which does have a value.
1 on 1 training, and an educational package that comes with videos, eBooks and a blog which does contain valuable info about forex, trading, the market, and about getting more information.
In conclusion, most notable features are a real window through the platform into the world of forex trading, as well as a solid educational package that includes 1-1 training.
As the largest flaw, it is the lack of bonuses, and more importantly, the lack of MT4.