Insights is a plugin for WordPress that you could greatly facilitate the lives comes to include content on your website and that using this plugin does not need to get out of your graphical environment almost from WP to search and others.
The functionality of this plugin is the p oder search from your 'dashboard' and embed your findings on your post .
You can find and insert the following things:
1. Images from Flickr
2. Google Maps
3. YouTube videos
4. Wikipedia articles
5. Google searches
6. Links to your own blog posts
Imagine how interesting it can be e inding the images you put on your post in addition to seeking information on Wikipedia about it, all without leaving your WP .
In addition to each feature brings options such as size of a file or features of YouTube videos. A great plugin!
I left some screenshots: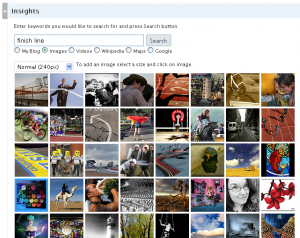 Download: Insights
Track: Help WordPress